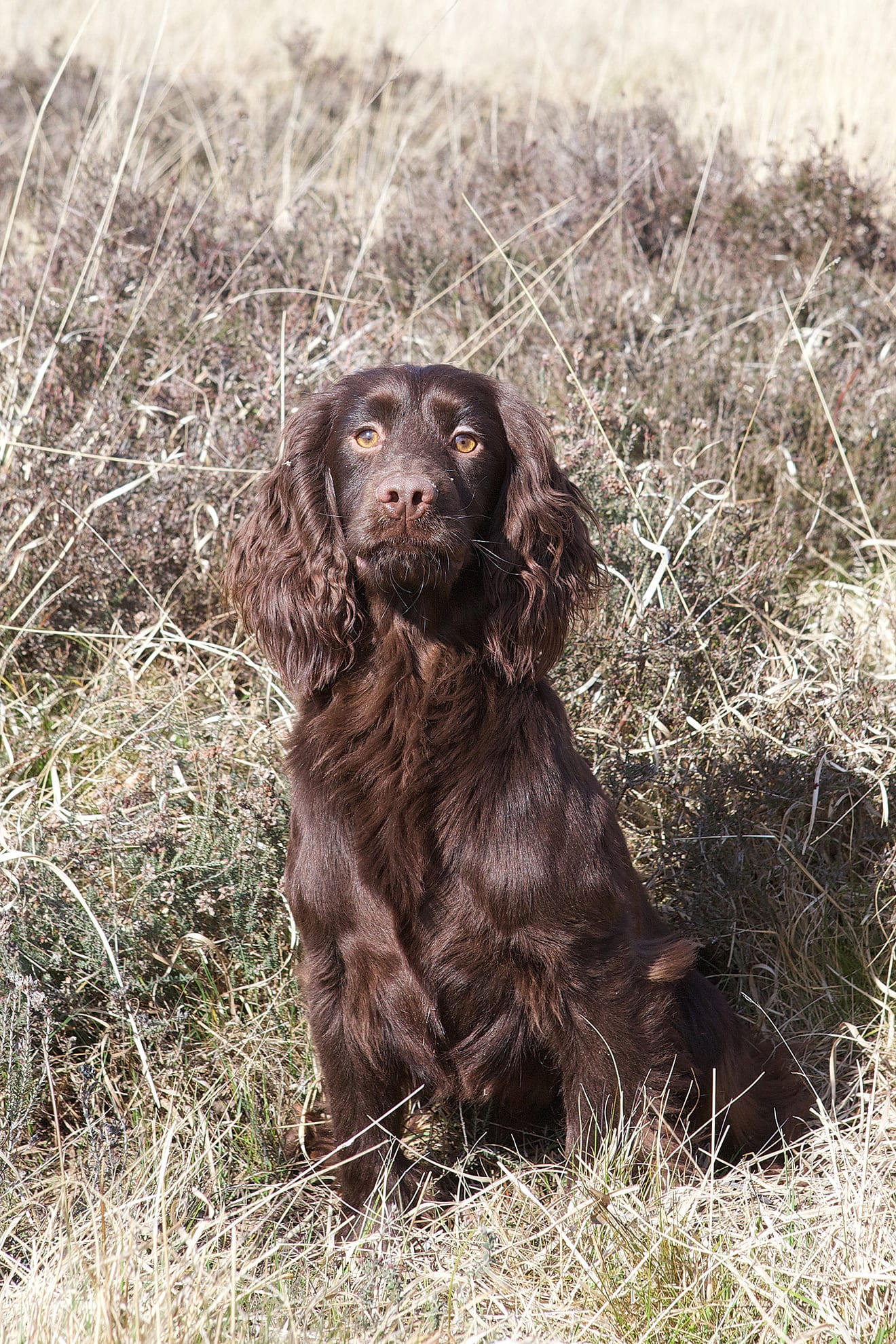 F.T.CH. CROIMHOR TURN OF POOLGREEN "Rio"
Small compact cocker dog. Has had two 2nds in open field trial qualifiers this season. Excellent retriever. Nice outcross for our breeding lines.
Made up to a field trial champion in season 2017.
Qualified and recieved a Diploma of Merit at the 88th Cocker Spaniel Championships 2018.
---
BREED: COCKER SPANIEL
SEX: DOG
COLOUR AND MARKINGS: LIVER
DATE OF BIRTH: 09/06/2014
KENNEL NAME: RIO
BREEDER: Mr D Creamer
Five Generation Pedigree
PARENTS
GRANDPARENTS
G.G.- PARENTS
G.G.G.- PARENTS
G.G.G.G.- PARENTS
SIRE
CHEWEKY GIGGES
SIRE


F.T.CH.

 MALLOWDALE
ZANDER
SIRE


F.T.CH.

 DARDNELL DEALER
SIRE


F.T.CH.

 PARKBRECK JEFFERSON
SIRE


F.T.A.W. 

MAESYDDERWEN GRIFFIN
DAM


F.T.CH.

 ZELDA OF CADBOLL
DAM


F.T.A.W. 

LARFORD CELT
SIRE


F.T.CH.

 RIGFOOT TEAL
DAM


F.T.CH.

 WERNFFRWD AMMWYL
DAM


F.T.CH.

 MALLOWDALE OLGA
SIRE


F.T.CH.

 MALLOWDALE RACKATEAR
SIRE


F.T.CH.

 WERNFFRWD SIARI
DAM
WHINPARK CHRISSIE OF SQUARECLOSE
DAM
PARKBRECK LYNSEY
SIRE


F.T.CH.

 JASPER OF PARKBRECK
DAM


F.T.CH.

 ZELDA OF CADBOLL
DAM


F.T.CH.

 DEARNVALLEY JADE
OF CHEWEKY
SIRE


F.T.CH.

 WERNFFRWD DAI BACH
SIRE


F.T.CH. 

MAESYDDERWEN KESTREL
SIRE


F.T.CH.

 SWALLOW LAW SNIPE
DAM


F.T.CH.

 WERNFFRWD MELYNGOCH
DAM


F.T.CH. 

WERNFFRWD SILK
SIRE


F.T.CH.

 GWIBERNANT LLEWELLYN
DAM


F.T.CH.

 WERNFFRWD CI TWT
DAM
PARKBRECK SANTA CLAUS
SIRE


F.T.CH.

 PARKBRECK JAKE
SIRE


F.T.A.W.

 MAESYDDERWEN GRIFFIN
DAM


F.T.CH.

ZELDA OF CADBOLL
DAM
KENKEW JAN
SIRE


F.T.CH.

JASPER OF PARKBRECK
DAM


F.T.CH.

LADY KINGS THORPE
DAM
BOSTONMOOR BUZZARD

F.T.CH.

 ARGYLL WARRIOR
SIRE


F.T.W.

 NORLEIGH CLUNE OF KINGCOTT
SIRE
KIRKSTALL LEVER
SIRE


F.T.CH.

 JADE OF LIVERMERE
DAM


F.T.CH.

 ANAHAR TEUCHAT
DAM


F.T.A.W. 

NORLEIGH COCOA
SIRE
NORLEIGH HOWS YOUR FATHER
DAM
MULLARDOCH MIIDGET
DAM


F.T.CH.

 LARFORD ELMA
SIRE


F.T.CH.

 WERNFFRWD DAI BACH
SIRE


F.T.CH.

 MAESYDDERWEN KESTREL
DAM


F.T.CH.

 WERNFFRWD SILK
DAM


F.T.A.W.

 LARFORD CELT
SIRE


F.T.CH.

 RIGFOOT TEAL
DAM


F.T.CH.

 WERNFFRWD AMMWYL

F.T.CH.

BLACKMOORFOOT
BEE

F.T.CH.

 NORBECK RINUS
SIRE
F.T.CH. WERNNFFRWD CYMRO
SIRE
F.T.CH. JADE OF LIVERMERE
DAM


F.T.CH.

 WERNFFRWD CI TWT
DAM
F.T.CH.PARKBRECK EAGLE
SIRE
SIMON OF KENSTAFF
DAM
F.T.CH. ZELDA OF CADBOLL
MILFOIL BOUNCING BET
SIRE
F.T.CH.GUSTY SILVAN
SIRE
F.T.CH. PARKBRECK BREEZE
DAM
WARREN ALICE
DAM
DAPPLESDAWN BLUEBELL
SIRE
F.T.CH. JENOREN GREGOR
DAM
PARKBRECK GRACE